….and what does this mean for incentives and the quality of online research data?
Stop for a moment and think about how much your time is worth. If I were to ask you for 10 minutes of your time, what would be the monetary value of that time?
If you're anything like me, juggling responsibilities with two young daughters and two working parents, you'll often find yourself time-poor, prioritising convenience to maximise the time spent with family. Time is valuable, so we're careful about how we spend it.
Now, consider how much your opinion is worth. In your role at work, you may have a day rate for your time that is charged to your clients. This rate likely takes into account your expertise, knowledge, experience, and the training you have undergone to be able to impart that knowledge. However, for the moment, let's set aside how much your opinion is worth in a professional capacity and consider how much your opinion is worth as a general member of the UK population.
How much are your time AND opinion worth together? For example, imagine I asked you for 10 minutes of your time AND asked for your opinion. How much would this be worth to you? Come up with a figure in your head.
Next, compare that to some of the typical incentives offered to research respondents online. Here are some real-life examples that I've come across over the last couple of weeks:
Example 1 – 10 mins survey – 56p reward
Example 2 – 15 mins survey – 48p reward
Example 3 – 10 mins survey – 50p reward
Example 4 – 15 mins survey – 15 points* (actual value 15p reward)
Example 5 – 10 mins survey – 75 points* (actual value 75p reward)
Example 6 – 10 mins survey – 1,800 points* (actual value 32p reward)
How many of the examples above match the figure you came up? My guess would be none.
Now, let's work out how these rewards measure up against the UK minimum wage. If we take example 3, which offers 50p for 10 minutes, it amounts to £3.00 an hour – less than a third when compared to the minimum wage of £10.42 for those over 23.
* Survey panel companies that offer points as incentives often don't make it clear what the direct monetary value is. Instead, they allow participants to redeem these points for vouchers or prizes once a certain threshold has been reached. While reward schemes are great at rewarding panel members in different ways, it raises the question of whether this is a transparent way of valuing the respondent's time, or if it's merely a way to make the incentive sound bigger in points than its actual monetary value.
How do incentives relate to data quality?
If you feel there is a fair exchange between the survey reward given and the value of your time and opinion, you're more likely to be considered and provide high-quality responses to questions. However, if the value exchange falls below that threshold, then you'll likely give less consideration, potentially speeding through questions and giving less weight to your answers.
The incentive quality equation
Fair reward X Your value and opinions = High-quality, considered responses
Undervalued reward X Your time and opinions = Lower quality, less considered responses
Our approach to incentives
At Yonder Data Solutions, our ethos and approach to data quality revolve around placing respondents at the heart of the research process. We firmly believe that if you want good quality data out, you have to put good quality data in. This involves recognising the value of respondents, their time, and their opinions by rewarding them fairly in this data exchange.
We have a proprietary panel called Y Live, which has been running since 2011. We maintain a transparent exchange with our panel members, rewarding them £1 for every 5 minutes they spend completing our surveys. The positive feedback we continually receive from our members affirms that they feel well compensated for their time and opinions. At a rate equivalent to £12 per hour, this surpasses the minimum wage for the time invested (although our surveys rarely extend to an hour) and stands significantly higher in comparison to the industry examples above.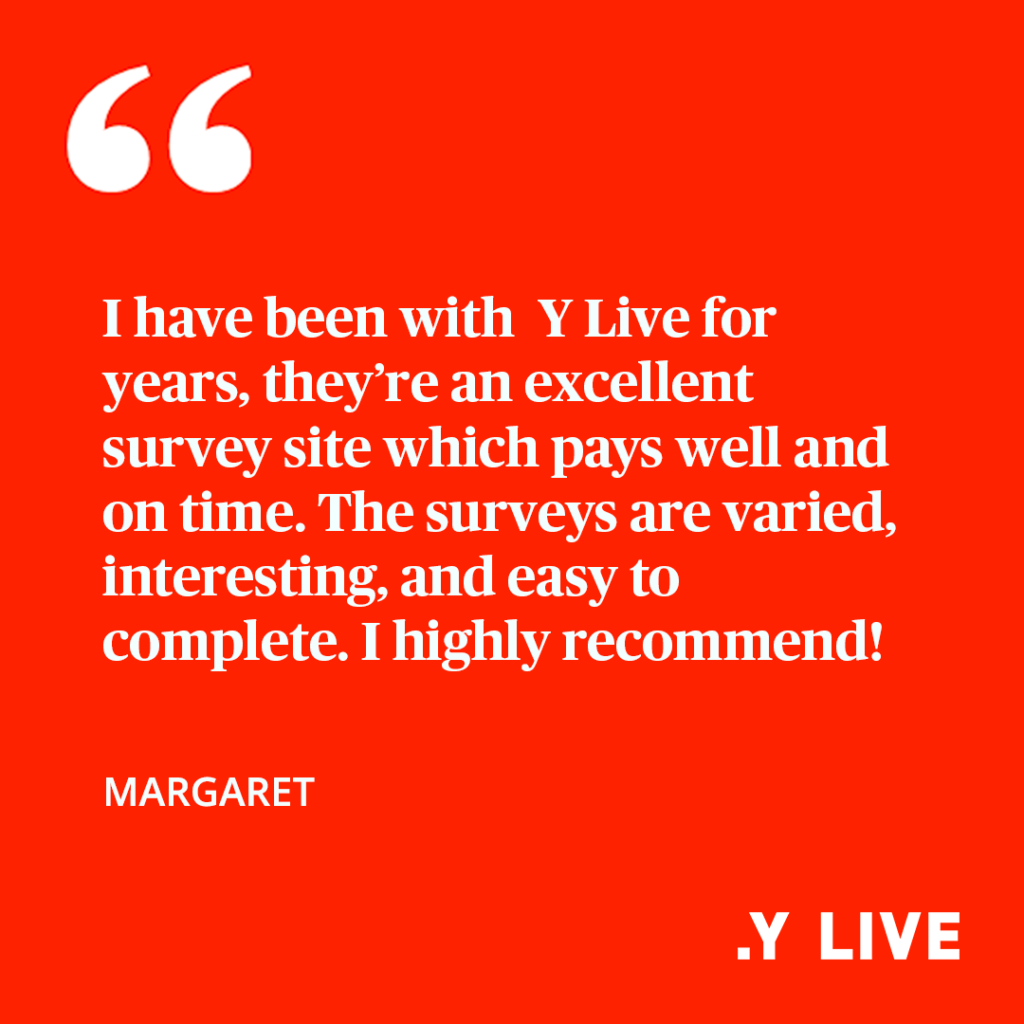 Does a higher incentive model create professional respondents?
We often get asked whether our incentive model creates professional survey takers. Given the average panel member earns £4 per month, I don't think our panel members would consider it a profession. Instead, our incentive structure fosters loyalty among panel members, some of whom have been part of the panel since its inception in 2011. Our panel consistently achieves some of the best response rates in the industry, allowing us to remain confident in our feasibility and delivery.
Our panel comprises engaged respondents who provide thoughtful and considered responses – best evidenced by the quality of our open-ended responses. Additionally, our re-contact rates, which exceed 85%, highlight our ability to also deliver brilliant diary studies, product tests, and longitudinal studies through this high level of engagement.
Incentives alone don't equal data quality
We recognise that good incentives alone don't deliver high-quality data. Ultimately, it's a combination of appealing incentives, well-designed and engaging surveys, and our robust approach to quality, which blends the best of automated and manual quality checks and reviews carried out by our experienced and trusted survey management team.
Our panel and data collection services are trusted by leading organisations, including the Premier League, Amazon, and NATO, who leverage the data that we deliver to make key business decisions.
If you would like to read more on the importance of data quality for effective decision-making, take a look at my previous article here.
If you'd like to discover more about what we offer, get in touch with Daniel Singham, our Commercial Director: Daniel.Singham@yonderdatasolutions.com